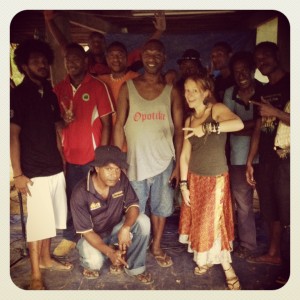 I met Robert Oeka in 2011. He was a driver on the Project I work on in Papua New Guinea, and was driving me through the busy streets of Port Moresby one afternoon. I was in a musical at the local theatre at the time and, terrified of my upcoming solos, was singing along to a CD in the car. Robert asked me if I liked to sing. I told him that I loved performing and while I didn't think I was a particularly good singer, if it got me onto a stage it was certainly something I would do. Robert went on to tell me that he was a famous Papua New Guinean musician and asked if I wanted to record a song with him. I didn't really believe him, but I gave him my number anyway, thinking what an experience it would be if it actually worked out. Later, I asked all my Papua New Guinean friends if they knew of him, and everyone replied yes, that he was indeed a well-loved singer throughout the country. Several weeks later, Robert phoned me up and said he had written a song for me to sing, and wondered if I would come to Tokorara – a 'no-go zone' settlement in the city – to record it. With security guards in tow, off I went one Saturday afternoon and met with him and his producers.
The song was Solwara Mangi (Island Boy), a remake of his hit song Solwara Meri (Island Girl) from the 1980's, and was in Toaripi – the local language of Robert's village in Kerema, Gulf Province. I had never heard the original song nor the language before, but within two hours we had it recorded and Robert was confident it would be a hit. A few weeks after that they had mixed the song down, including Robert singing and a rap section, and it was time to make a music video. Down we went to Ela Beach and spent hours dancing, singing and filming in the sand, much to the bewildered amusement of the hundreds of people enjoying the sunny afternoon.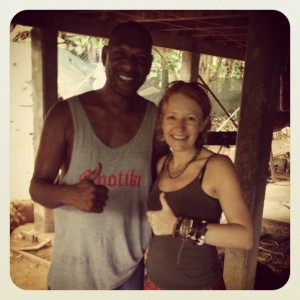 A white meri, from Africa, singing in local tok ples (language) was a first of it's kind in Papua New Guinea, and over the following months Robert and I did newspaper and radio interviews frequently. Robert hadn't produced an album in six years, and this was his big come back. The song was released on the radio and people were thrilled to hear him again, and with a white meri by his side, it soon became a hit. Everyone I knew, the drivers, the security guards, the local people I worked with, all started calling me Solwara Meri and told me everyday how much they loved the song. Then the music video came out on TV, with its debut before a national rugby game, and it became the talk of the town. People I didn't know started coming up to me and telling me they had seen me on TV, and absolutely loved the song.
Then Robert called me up and said he wanted to do a concert to launch the album. While terrified, of course I agreed, and soon found myself back in Tokorara, rehearsing with Robert and the band in the sand underneath Robert's stilted house. We spent two days rehearsing, and those days will always remain close to my heart. It was hot and humid, the band was amazing in that chilled-out-funky-band way, and people up and down the street came to sit and watch us rehearse. Little children recorded us practicing on their cell phones and could be heard replaying the songs and giggling for days to come.
And then came the big day, 28 March 2013. I was so nervous I thought I was going to crawl out of my skin – I've performed countless times on stage, and even done musicals, but have never performed solely as a singer. The concert was at the Port Moresby Country Club, known for its rawness, and the poster advertised the show from 7pm – 4am. Four bands were playing, OBM Crew, XHM, the KB Studio Band and us. I was scheduled to go on stage at 10pm to sing five songs and then Robert would continue with other songs from the album.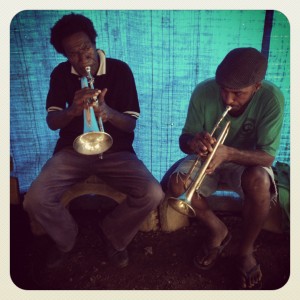 The evening started perfectly at the Holiday Inn where Kevin and I joined Robert and his beautiful wife Maggie on the balcony of their rented room. In the humid Port Moresby air, we drank red wine, chatted about the album, PNG's music industry, life, and in one simple gesture we brought together worlds of difference into a beautiful and unique moment. From there we went to the Country Club. A DJ was playing and we sat on the top balcony listening and laughing, waiting for the people to arrive. It was a lively atmosphere with the DJ intermixing Western pop songs with classic Papua New Guinean tunes, and I danced with Robert's nephew Francis for much of the night. Eventually, the bands started to play and more than five hundred people had gathered to hear them. Robert was introducing Kevin and I to all sorts of people, other famous musicians that had showed up to hear the white meri sing, friends, drivers, random people all there for the show.
In all my time in Papua New Guinea, I have never spent a night feeling more loved or protected. So many people came to me that night telling me how much they loved the music video, how all their friends were there looking out for us, how they were so proud to have a white South African meri there as one of them. One of the most classic lines of the night was delivered to Kevin. Kevin, who is by no means a small person, was dancing away when someone started chatting to him and said, "Don't worry man. Tonight you won't get stabbed. Not even from those big guys, so don't worry about it."
Eventually, some time after midnight, it was time for me to go on. The MC called my name to a cheering response, and I
walked up those stage steps with my heart thumping. The next half an hour went by so fast. I sang three songs on my own, each song telling my own story of how a white South African meri came to be in Papua New Guinea. I started with Waka Waka, the song made famous as the anthem of the 2010 Soccer World Cup, sung by Shakira and Freshly Ground, which I knew every Papua New Guinean knew and loved. Then I sang a South African song Shosholoza by artist Zola, which included the most difficult Zulu rap I have ever had to learn. Then it was my most favourite Bob Marley song Get Up, Stand Up, which brought the house down. I just remember looking out across the dark dance floor and seeing hundreds of people dancing and singing and cheering. I forgot lines and mixed up my words, and with no monitor on stage to hear myself sing or to receive important cues from the band, I prayed that it sounded ok. They were a forgiving audience and cheered more loudly after every song. Soon it was over and Robert joined me on stage to sing our two Papua New Guinean songs – Solwara Mangi and Robert's latest hit Mafu Mafu. Those two songs were simply incredible. People swarmed to the stage and joined in singing every word and every line, their screechingly high-pitched Kerema voices soaring encouragement to the stage. Just as a side note, I sang in six languages that night – English, Spanish, Xhosa, Zulu, Toaripi and Pisin – and it was over before I knew it. When I stepped back onto that dance floor while Robert continued to sing, people flooded me with warmth and compliments and kisses and humanity.
We danced to Robert's songs for what seemed like hours, and I truly gained respect for both his performance and his songs. I have seldom seen such a loved, local man perform live and the response from his people was overwhelmingly humbling. Truly, it was one of the greatest nights of my life.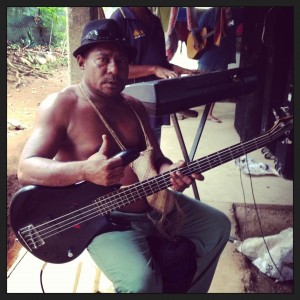 That weekend, it seemed hard to believe that it was all over. The song was done, the music video on TV, the concert performed. It was beautifully fitting that Robert invited Kevin and I to his home for an afternoon braai that Saturday. We were thrilled to go and spent the afternoon laughing and telling stories, singing old songs to the acoustic guitar being played by his friends, and feeling more welcome and part of the family than I have in years. The children were all there too, playing the rehearsal recordings on their cell phones, singing along to every word, and laughing hysterically when I blew them all kisses. That braai was one of my most favourite experiences in Papua New Guinea and the warmth, generosity, and authenticity of it all will forever be etched in my heart.
I have always wanted to be the kind of person that takes every opportunity, no matter how absurd it seems at the time, and to follow a path of lively adventure that helps to create this magnificent life that I have. This experience was most definitely one of those golden moments, and I am so grateful for having met the amazing Robert Oeka and for making my contribution to the musical scene of Papua New Guinea.
Rock on.