Despite the fact that PNG is an extraordinarily lush country, good quality local fruit and vegetables are hard to come by in Port Moresby. Most of us shop at supermarkets where a wide variety of beautiful, but expensive, imported vegetables can be found.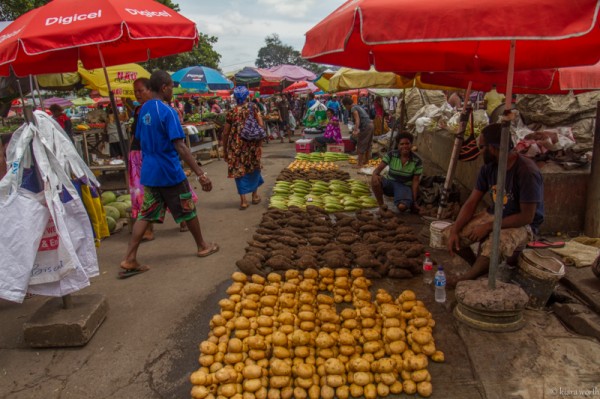 A more exciting shopping experience, however, can be found at Malaoro Market, a fresh fruit and vegetable market located at Gavamani Road. The aisles are a little rougher than those in the air-conditioned supermarkets, but the abundance of staple vegetables is just as good, the prices reasonable, and the colours and experience worth every minute. Produce ranges from lettuce, to carrots, tomatoes, onions, garlic, and corn, as well as an array of fruits including bananas, pineapples, and watermelon. There is also a seafood section, where fresh fish and crabs are in abundance.
Sometimes it's more convenient to do our shopping in one place, but remember that supporting local production is a good way of building the economy of PNG, and of contributing to the protection of the environment. Here are a few reasons why supporting local markets is a good idea:
The taste is so much better. Fruits and vegetables from local markets are fully ripened in the field with no treating to stimulate the ripening process, as is done with a lot of imported vegetables. Local products are fresh and direct, and they taste better for it.
Support local farmers. The majority of people in PNG are subsistence farmers and rely on some form of farming to supplement their incomes. By supporting local markets, you also support local farmers, giving them a fighting chance to participate in today's difficult economy.
Protect the environment. Imported vegetables require alot of resources to get to supermarket shelves, and the extra packaging increases rubbish and pollution. At local markets, transport is a lot less and there is virtually no packaging at all.
Know where your food comes from. We don't know where most of the food in supermarkets comes from, but at local markets there is an opportunity to meet the farmers who grow them and to learn a little about where they're from.
Connect with your community. Shopping where local people shop is a great way to get to know your community, to experience what local life is like and to connect with people on a different level.  
Malaoro Market is just one of the markets in Port Moresby, and while it may not have everything you need, it will provide most of your basics. Next time you go shopping, think of going to a market, and support local production that encourages local growth.